Spinning Units
2 HDB Carding Machines 2500 mm and 2 HDB Carding Machines 2000 mm with 10 Ring Frames at Amritsar - Capacity 4 Tons / Day with complete Fiber dyeing, blending and batching equipment. Counts 2Nm to 20Nm
2 HDB Carding Machines 2500 mm with 6 Ring Frames at Sonepat - Capacity 2 Tons / Day with complete Fiber blending and batching equipment. Counts 4Nm to 20Nm
2 HDB Carding Machines 2000 mm and 2200 mm with 6 Ring Frames at Permanallur - Capacity 1.5 Tons / Day with complete Fiber blending and batching equipment. Counts 4Nm to 20Nm
Shuttles Weaving Units
24 Somet Dobby Rapier Autolooms - 2100 mm ww with warping facility. Capacity 7200 Meters or 2850 Blankets / Day
6 Somet Jacquard Rapier Autolooms - 3 x 2300 mm ww and 3 x 2800 mm ww with warping facility. Capacity 1200 Meters or 500 Blankets / Day




Powerloom Units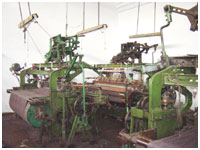 16 Cimmco Dobby Powerlooms - 2100 mm ww with warping facility 4800 Meters or 2000 Blankets / Day
8 Textima Dobby Powerlooms - 2100 mm ww and 4 Textima Dobby Powerlooms 2500 mm ww with warping facility. Capacity 3000 Meters or 1275 Blankets / Day
Woollen Finishing Unit
The Woollen finishing unit consists of the complete compliment of finishing machines required for blanket and heavy woollen fabric finishing which includes a padding mangle, hydro extractors, washing machines, milling machines, milling cum scouring machines, multi layer stenter, raising machines, brushing machine rotary press, fabric blowing machine, polishing and shearing machines. This unit has a capacity of 10000 Meters or 4350 Blankets per day.
A second unit engaged in the manufacture of relief blankets has 2 raising machines and a Rotary press and has a capacity of 4600 Meters or 2000 Blankets per day.
Acrylic Mink Blankets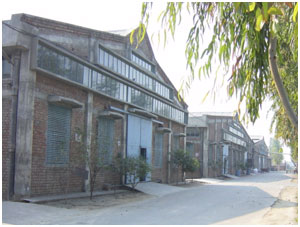 The Acrylic Mink Blanket plant - "Swadeshi Koreatex" a unit of Amritsar Swadeshi Textile Corporation Pvt. Ltd. was setup in the year 1998 keeping in view the changing requirements of customers in India as well as abroad.
This unit is one of the most modern mink blanket manufacturing plant in Asia and consists of two Automatic Warpers a set of Double Pile Rachel Knitting Machines with a capacity of 6000 Meters per day. This is followed by a slitting machine and manual mending equipment, followed by a Computer controlled 8 Colour printing machine, heat setting machine, washing and drying plant. The system is completly automatic with a capacity of 2000 blankets per day. This is assisted by a manual printing equipment which can supplement the production by another 500 blankets per day.
The finishing section is a online automated finishing plant consisting of Polishing machine, Three Automatic Raising Machines followed by a polishing machine, 2 double brushing machines, a single polishing shearing machine, a single brushing machine and 2 double polishing shearing machines for final luster to the blanket. This is followed by a manual cutting, inspection and satin binding machines with a production capacity of 2500 blankets / day.